Ihre Stimme für die eVent-Hitparade.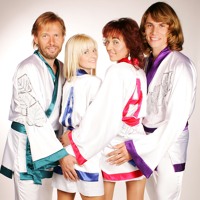 ABBA BORN AGAIN was founded in 1999.
The band is composed of 6 members, base
assembly plus bass guitar and drums. The
band is over 15 years in ABBA tribute
business. The band performs mostly abroad -
The Balearic islands (Mallorca, Menorca,
Ibiza), Andalucía, The Canary Islands, Czech
republic, Poland, Hungarty and of course
Slovakia. The band performs live
accompanied by great musicians and singers.

ABBA BORN AGAIN is not trying to imitate the original ABBA, but to create the illusion of a
live concert of ABBA. The concert last almost 2 hours, of course, it is possible to edit the
playlist and the lenght of the concert according to customer requirements. Great vocal
performances, fantastic choreography, the authentic costumes and dynamically built the
structure of the show will guarantee that no one will sit during performances, everyone will
sing and dance. Amazing live show full of unforgettable hits of ABBA! Absolutely faithful live performance will get you! You will have the feeling that you´re on live performances of the group ABBA, exactly as in the seventies. Such is the live music concert with ABBA BORN
AGAIN.
You will see a number of costumes, perfect dance creations and you will want to dance and
sing. All the hits, in fact, you know very well. This is no ordinary concert!
This is live ABBA illusion !!! You have to experience it!
Suitable as well for the concert stages, theatres, as well as private an corporate parties!
DON´T MISS A SIT !!!
---
---